The FDA Deeming Regulations
On August 8th, 2016, the vaping industry changed forever.
Brief Synopsis:
As of August 8th 2016:
No new products can enter the market.
The clock starts for companies to file PMTA's (PreMarket Tobacco Applications) for all products that came on the market after February 2007 (all vapor products). Companies were given until 2018 to file a PMTA at the cost of millions of dollars per application with no guarantee of approval. (This was extended to 2022 but then we were notified by FDA that it will be changed to a sooner date) If no approval is gained that product must be removed from the market. Each PIECE of an e-cigarette would require separate PMTA (each tip, each battery, each resistance of coil, each tank, each different color/variation, each flavor and each nic level, etc…).
Shops are no longer allowed to mix e-liquid, build coils, or modify devices (other than repairing existing products when it does not require adding or removing parts) without registering with the FDA as a manufacturer. Registration deadline was December 31st 2016 for manufacturers.
No free samples. Period. No exceptions. The FDA requires sampling to have a fee; and that fee cannot be meaningless. It must also be a nominal fee that is equivalent to the value of the sample received. No more raffles, free giveaways or free in store sampling.
Advertisements and product packaging must have a specific warning statement and meet FDA formatting requirements.
We must be more vigilant about not making claims that vaping helps people quit smoking or saying vaping is safer than smoking or that it is tobacco harm reduction. Doing so would result in enforcement action by the FDA for a number of different violations such as misbranding or adulteration or false claims (even when the statements are truthful they may not be made).
All online shops must have true age verification.
Our industry is pursuing legal action against the FDA on a number of grounds. We lost in the initial case, but appeal arguments were heard in September 2018 and now we wait to find out if we win the appeal.
Much of this may be irrelevant as the FDA Commissioner released on Sept 12, 2018 that he intends to pursue banning flavors and requiring PMTA much sooner than 2022 and this would most likely shut down the entire vaping industry.
His statement can be found here.
You can read more about the FDA Deeming Regulations timeline on AVA website.
Join SFATA
Our mission is to advocate for a reasonably regulated U.S. marketplace which allows our member companies to provide smoke-free products to adult consumers that are an attractive choice, while promoting a positive public image for vapor products and educating businesses in our industry.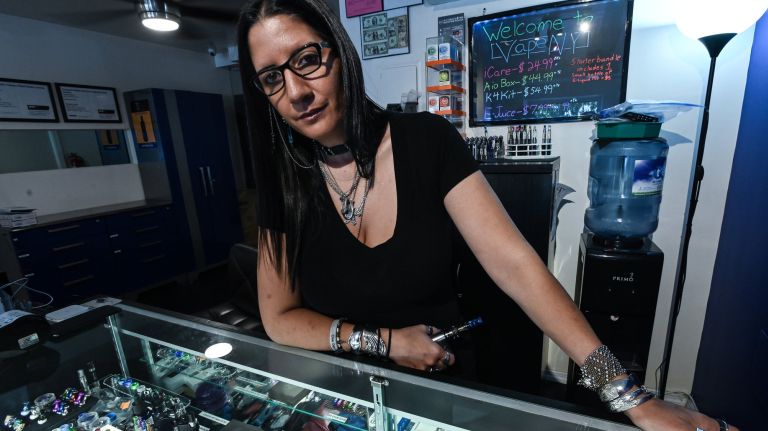 2019
Spike Babaian, owner of Vape New York, said uncertainty created by the state's flavor ban forced her not to renew a lease on one of her Manhattan locations. Photo Credit: Shaye Weaver
Vape shop owners across New York are reeling from a state ban on most flavored products, but they're not going down without a fight.
The New York State Vapor Association is expected to file a lawsuit in the coming days that aims to reverse the ban, according to Spike Babaian, who owns several Vape New York shops in the city and is among those leading the charge against the state's emergency regulation.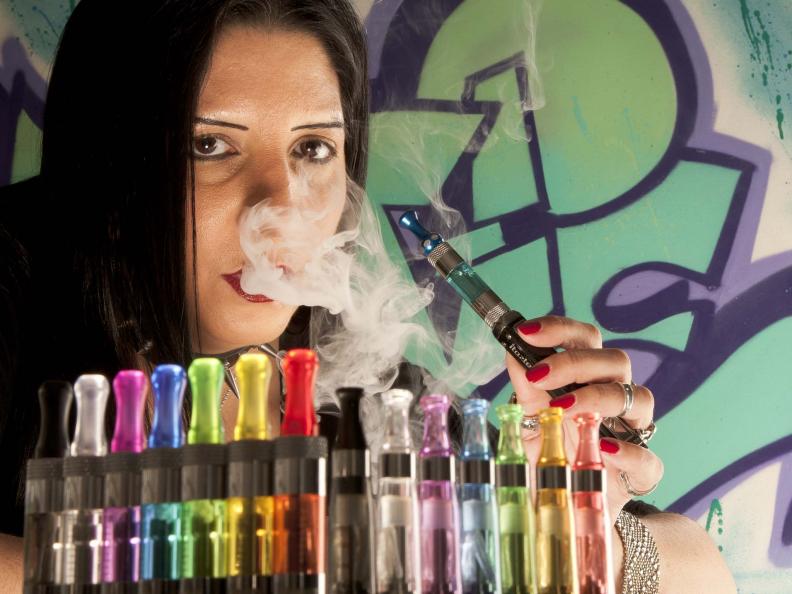 2013
Spike Babaian loved the way the first puff hit her lips. She never thought electronic cigarettes would be her gateway into the business world.
"I thought it was a miracle device," she said. "I just wanted everybody to have one." Four years later, Ms. Babaian is New York City's reigning maven of e-cigarettes—battery-powered devices used to heat up and inhale liquid nicotine. She's president of the National Vapers Club, founder of a national summit for e-cig vendors, Vapefest, and co-owner of the city's first e-cigarette store, VapeNY. But Ms. Babaian and an industry that is expected to grow tenfold in the next several years, to $10 billion in U.S. retail sales, face a threat in New York.
E-Cig Sales on Fire
Vapeny co-owner Spike Babaian on the e-cigarette market.