Description
VapeBands by Pananal Inc – Now available in two sizes! Choose from Original or *New* Junior
Made of high quality silicone
Specifications/Fitting Guidelines
VapeBand™ Original bands fitting 22mm + surfaces (mods, bottles, fingers, etc.) up to roughly a 26650 battery sized mods.
Available colors:  Black/white, blue/white or gray/blue
VapeBand™ JR. bands fitting 14mm + surfaces (some drip tips, chuffs, screw drivers, USB ports, toes, etc.) up to roughly a 18650 battery sized mods.
Available colors: Black/white or Gray/blue (Blue/White coming soon!)
Note: The previous models are still available in Vape NY Stores, please call ahead for availability.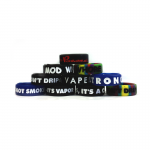 Full Description:
VapeBands can be used to give your mod a voice, what we call "Mod Speak", or to give your device a new look, cover blemishes etc., but these high quality silicone bands perform a variety of functions for the vape enthusiast, using them on but not limited to:
Tanks, genesis atomizers, rebuild-able drippers, creating a bumper for your devices & components
Devices that require adjustable airflow where the function is not supported by the native device, or for those over bored out (drilled) holes where what normally would be the time to retire the devise, now some might be re-usable and take on a new look along with being functional again
Telescopic mods and the gaps when using different battery sizes
Bottles where they create a grippe surface that can assist in opening
Other surfaces where gripping is required to un-thread one component from another, allowing for effortless removal
You can wear them as rings too!